Funchal Airport Transfers to Camara de Lobos
How to Get from Funchal Airport to Camara de Lobos?
Going to Camara de Lobos in Madeira soon? After your arrival at Funchal Airport, unless you know someone in the island, your best transport option is to book a private Funchal Airport transfer to Camara de Lobos. Avoid the hassle of carrying your luggage around while waiting in lines for a bus or expensive public taxis to Camara de Lobos. Appreciate a comfortable journey to your Camara de Lobos accommodation with our reliable and economical Funchal Airport transfers service.
Easy online booking for your arrival and departure Funchal Airport transfers
book with confidence. FNC certified provider.
How it works? Simple.
Select Camara de Lobos as your transfer destination area and provide us with flight details, Camara de Lobos accommodation address and contact. We automatically process your request for transport availability to Camara de Lobos and send a booking voucher with your transfer confirmation in a matter of seconds. At Funchal Airport arrivals terminal a friendly driver will be waiting for you next to a placard with our website logo. For the return transfer we will pick you up from the same address in Camara de Lobos. And remember, you can always pay later to the driver for both your arrival and return Camara de Lobos transfer.
How far is Camara de Lobos from Funchal Airport? How much will it cost?
Private taxi transfer prices per vehicle. You can

pay online

or

later to the driver

in euros.
Funchal Airport Transfer

to or from

Start Price per Vehicle
Camara de Lobos
28€
Book
How long? The travel distance between Funchal Airport and Camara de Lobos is 26Km and transfer time takes approximatly 23mins under normal traffic conditions.
Private Transfers from Funchal Airport to Camara de Lobos
The most efficient and cheap way for getting to Camara de Lobos
Our private Funchal taxi transfers to Camara de Lobos have fixed rates and may vary from an executive saloon or estate car for up to 4 passengers to a modern people carrier van or mini-bus up to 16 passengers. A friendly driver will assist you with all your luggage at Funchal Airport arrivals hall and guide you to your assigned transfer vehicle. Our Madeira transfers represent a much more faster, affordable and hassle free alternative transport to Camara de Lobos In approximately 23 minutes you will be relaxing at your Camara de Lobos resort, hotel or private villa.
---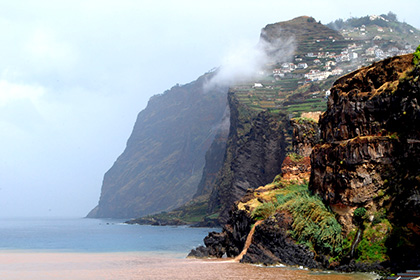 ---
Prices for Private Taxis to Camara de Lobos Area
Low Cost Ground Transportation to Camara de Lobos and Nearby Locations
Private taxi transfer prices per vehicle. You can

pay online

or

later to the driver

in euros.
Funchal Airport Transfer

to or from

Start Price per Vehicle
Camara de Lobos
28€
Book
Choupana
24€
Book
Encumeada
40€
Book
Funchal City
25€
Book
Monte
26€
Book
Ponta do Sol
35€
Book
Prazeres
55€
Book
Ribeira Brava
30€
Book
Santa Cruz
20€
Book
Santo Antonio da Serra
26€
Book
Looking for other locations?

More Taxi Transfers Fares & Prices
---
Private Transportation at Funchal Airport
Quality & reliable Madeira taxi transfer service
Well equipped, modern vehicle fleet
Door-to-door transfer between Funchal Airport with no stops
Suitable for Madeira golf transfers
Private transfer service for your party only - not a shuttle bus
Professional and licensed English speaking drivers
Official and certified Funchal Airport transfers company
Transportation service available 24 hours, 7 days a week
Ready for special luggage requirements
Insurance coverage for passengers and luggage
Option to pay online via PayPal or later to the driver

---
Customer Reviews on Funchal Airport Transfers
Clients feedback and opinion on their private transfers between Funchal Airport
"Your driver was very friendly with just enough talking to make us feel welcome and not so much that we were distracted from looking at the views. A quick and efficient jouney to the hotel. On our return, we experienced exactly the same level of service, with the driver arriving 10 minutes ahead of time to pick us up."

Gill Newman
"The service we experienced was cost effective, efficient, courteous and comfortable with drivers who were friendly, well dressed and drove with care. We were met at the airport as we entered the airport arrival hall despite having arrived a little early."

Tony Brander
"Hassle free pick up and transfer for our group. We were picked up on time and traveled in comfort in a mercedes mini-bus to our hotel. The driver was courteous and the return journey also went without a hitch. So easy to book transfers online. Made both the start and end of our holiday a pleasure. Would thoroughly recommend this company."

Andrew Holland
---